Become a Local Business Broker
 Did you ever think of becoming a Business Opportunity Broker?
Many Biz Op Brokers or Intermediaries, as they are often called, make a very comfortable living selling small local businesses and helping others buy these businesses. These brokers buy and sell liquor stores, bakeries, bars, restaurants, dry cleaners, gas stations, and basically all mom and pop type and other small businesses.

Typically, these businesses sell for $100,000 to $500,000 and this doesn't even count the real estate. These brokers charge a brokerage fee of 10% to 12% to structure these sales. That's $10,000 to $50,000 of fee per sale. Most brokers will sell 6 to 12 businesses a year. This puts their income at $60,000 to $600,000 a year in income. A long time Business Broker once told me that 10% of all businesses are either up for sale or could be up for sale and any given time.
Think of the sales potential in your area. Somebody's making money when these businesses change hands. Most states have minimal licensing or registration since you are dealing with "business people" and not the public in general. A quick check with your state attorney generals office will tell you if you need any special permits etc.
Many business brokers operate their successful businesses from their homes. Many areas of the country have NO business brokers to serve these sales and many states require limited or no licensing. This is a GOLD MINE!

What This Offering Will Do For You - Locate, analyze & evaluate and sell local small businesses that will generate sizable fees for you. All info & forms are included and this is a business you can run from your home.
In Short

In Short: This program will show you how to get sellers, value their business, get buyers, write the sales contract and close the deal. You could be in this exciting business tomorrow!

We offer this services to our clients on www.My-Biz-Doc.com.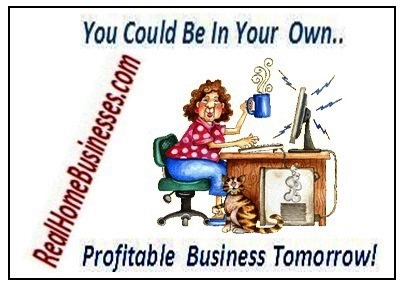 Earnings Potential
Number of Businesses Sold Per Month (1-3 Usual) 1
Average Business Price ($80k to $500k is typical) $100,000
Your Brokerage Fee (10% to 15% typical) 10%
Your Monthly Income $10,000.00
Your Annual Income $120,000.00
You don't need any special training to be successful in this business. Everything you need is right here!

Satisfied Customers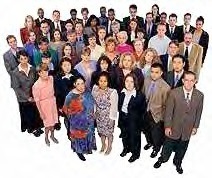 Customer Testimonials:
Below are just a few notes from some of our satisfied customers. We copied everything they sent, even the misspelling of the word lighting in item 7. These are just a small few of the positive testimonials we have received from our customers. We are proud of these and you can feel safe that your products will be received in an equally positive manner.
* Great Programs. Highly recommend this company! A+A+A+ …… Buyer raj0531
* Great information, recommend this company…… Buyer jhelik
* Excellent delivery and great product .......... Thanks!!!!..... Buyer justbs4u
* FAST Delivery. Great Information. A++…. Buyer clallen2000
* Awesome Product ...Awesome Seller ...Thanks! ...Best Mortgage info out!... Buyer lynch007
* Good Communication, Great Materials, Will buy from again…….. Buyer raj0531
* Lightning fast delivery - perfect transaction… Buyer amazingoz
* Great to do business with, Great information, recommend this company.… Buyer zulickys
* Quick Delivery Good Info…. Buyer texascrazy40
* Great information, highly recommend this seller! A+A+A+A+A+A+… Buyer raj0531
* Great Seller! Do Business With anytime! A+++++…. Buyer earlburch
* Great transaction. Good tools & Information. Highly Recommended. AAA+++. .Buyer modestobob
These are a small sample of the hundreds of satisfied customers we have heard from. We hope to add your byline in the near future



Here Is What We Provide To You:

(11 Files & Programs in Excel & Word & .txt)
** Easy to use Excel spreadsheet to quickly evaluate the business & put a value on it

* Contracts to List the business for sale

* Contracts for the purchase of the business

* Local and online services to use to advertise the business for sale

* How to write ads to attract buyers

* How to handle the sales escrow and who can handle this for you

* How to advertise the business to get buyers

* How to work with the buyers to demonstrate the potential of the business and get them to write a sales contract on it

* Easy to use forms and spreadsheets to quickly assemble a personal financial statement for the buyer

* Forms to get the authorization to run the buyers credit which is assignable to the lender also

* Forms to assemble UCC-1 for the transfer of business property

* Excel spreadsheet to help you quickly structure the sales deal around the buyers cash available and the sellers demands

In Short: This program will show you how to get sellers, value their business, get buyers, write the sales contract and close the deal. You could be in this exciting business tomorrow!
11 Files ready to put you in your own business tomorrow!
***********
Become a Local Small Business Broker

Previously sold for $59.95 but on sale now for only
$29.95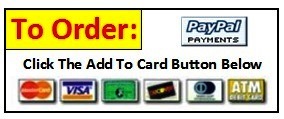 Upon receipt of payment your complete package will be emailed to you for fast easy download and save any Shipping & Handling fees. If you choose to get this material sent to you on disk via US Mail, please include $10.00 to cover additional shipping and handling.

Get Started on
YOUR Future Today

Live the American Dream
from the comfort of your own Home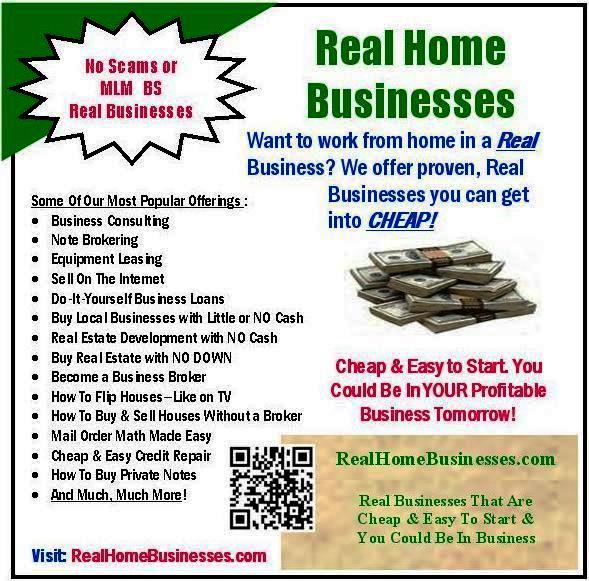 NOTICE: Like all software retailers, due to the ease of software copying, all sales are final. We guarantee the receipt of our products as advertised. We can not guarantee how our programs will be used and how much effort is used with any program. As a result, we can not guarantee the results from the use of any program.
Work at Home in a Real Home Business, these are proven top home businesses, easy & cheap to start; you could be in your business tomorrow as materials are emailed to buyer once their order is processed.


Free Item With Every Order
If you are looking for a REAL Home Business, you have come to the right place
Time To Get Yours

Additional Links To The Pages of This Website Below:
Home Businesses - Home,  About, Articles,  Contact, Note Broker,  Business Consultant,    Equipment Leases,   Buy Local Business,  Flip Houses,   Buy Houses NO Down,   Real Estate Development,   Business Brokerage,  DIY Business Loans,   Simple Bookkeeping System,   Mail Order Math,
Other Good Stuff - Sell House By-Owner,   Football Picks,  Baseball Pitching,   Knot Tying,   Bible Notes,   Weight Loss, Card Tricks,   Car Buying,    House Buying,   Credit Repair,   Musical Transposer,   Golf Computer,   Auction Computer,   Note Buying,   Retirement Planning, Commercial Real Estate Value Estimator,,   Poker & Blackjack,   Horse Racing, Prelist Profit Analyzer , Price Tester, Quick Business Appraisal, Rehab Cost Calculator, House Value & Rent Calculator, Mortgage or Rent Qualifyer Program, Real Estate Investor Special